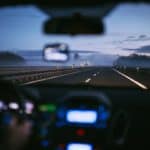 Roughly 10% of the U.S. adult population experience some loss of hearing.
Have you started to notice hearing loss yourself? If so, you need to consider how this affects your capacity to drive safely.
Driving is not only about using your eyes but also your ears on the road. However, you don't need to give up driving altogether because of your hearing loss.
You can follow our 4 tips for driving safely with hearing loss. Let's go!
1. GET TREATMENT FOR YOUR HEARING LOSS
The most important thing you can do is to visit your doctor to receive treatment for your hearing loss.
This starts with a hearing test to determine the extent of your hearing loss. You may require a hearing aid.
If you already have been issued with a hearing aid, you need to make sure you're wearing it whenever you're driving in your car.
It may take some time to get used to your hearing aid at first, but you'll always be safer wearing it in the car.
It's also important to continue to go for regular check-ups to ensure your hearing doesn't decline further.
2. NO DISTRACTIONS WHILE DRIVING
When you're driving you need to be exclusively focused on the road.
Many accidents are caused by drivers getting distracted. For example, texting or browsing the internet on your smartphone is definitely to be avoided.
You need to concentrate. But even if you're using a hands-free system to speak to someone on the phone, you're straining your hearing.
This also includes talking to other people in the vehicle with you while you're driving. This needs to be kept to a minimum.
3. DON'T PLAY LOUD MUSIC
We already know that listening to loud music can damage your hearing even more. However, it's also a huge distraction while you're driving.
You won't be able to hear the sirens of an ambulance or police vehicle approaching if you're playing loud music.
4. PAY GREATER ATTENTION
It goes without saying that paying attention to the road while your driving is the cornerstone of safe driving.
However, if you've experienced hearing loss, it's especially important to be visually aware. You need to take advantage of your mirrors regularly and keep an eye out for traffic signals.
Drivers use hearing to be aware of the distance between themselves and other vehicles on the road. If you're not able to do this, you need to protect yourself by being particularly aware of the other vehicles around you.
DRIVING SAFELY WITH HEARING LOSS
If you have experienced hearing loss, you need to adapt to your new circumstances. This is especially the case when it comes to driving.
By following our 4 tips for driving safely with hearing loss, you can make sure you get to where you want to go safely.
If you're struggling with your hearing loss, get in touch with us today for our help and advice.