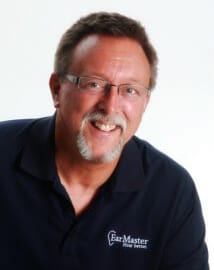 Meet Paul at EarMaster Hearing Aids
Great strides have been made with digital hearing aid technology, allowing people who struggle with hearing loss to hear life fully once again. Paul Penwright at EarMaster considers it his privilege and duty to help make this happen for his customers.
Paul began his career as a hearing instrument specialist in 1988. When he first got started he traveled around Southern and Central Oklahoma doing in-home appointments, checking people's hearing and fitting them with hearing aids.
In 1989 Paul moved from Yukon to Ada, OK and opened a hearing center. He's been located at 703 N. Broadway Suite 2 Ada OK 74820 ever since. Paul's witnessed a lot of changes with hearing aids over the years. Today you can, walk in, have your hearing checked and walk out the same day with hearing aids.
Contact Paul or Lisa today to schedule a no cost hearing test. Ask about their Free Two Week Hearing Aid Trial. You can reach the office at 580-436-3277. Nothing makes Paul or Lisa at EarMaster happier than seeing a big smile spread across the faces of folks whom they've helped to hear better.
Everyone at EarMaster is so friendly! Paul is very helpful and spent the time to explain everything to me. I thoroughly enjoy my hearing aids.
---