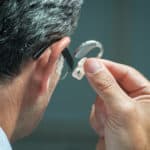 Are you frustrated with not being able to hear your loved ones speak? Are you tired of asking people to repeat themselves?
You're not alone.
About 48 million Americans report some kind of hearing loss.
With new technological advancements, patients with hearing problems can enjoy a standard of living that couldn't have been imagined a few decades ago. Check out four benefits of Starkey and Unitron rechargeable hearing aids.
1) SAVE MONEY
By switching to a rechargeable hearing aid like Starkey or Unitron, you save money because you no longer have to buy batteries for your hearing aid. It's estimated that hearing aid batteries last anywhere from five to fourteen days. That can add up quickly. Think of how much money you will be saving each year just by having a rechargeable hearing aid.
2) PERFECT FOR PEOPLE WITH DEXTERITY ISSUES
Hearing aid batteries are very small. People with dexterity issues or even vision problems have trouble changing these small batteries. With aids like Starkey rechargeable hearing aids, you won't experience these issues because all you have to do is place your hearing aids in the hearing aid charger. There are no tiny batteries or compartments to mess with.
3) PROVIDE PEACE OF MIND
A rechargeable digital hearing aid will provide you with peace of mind. You will be confident knowing that your hearing aids will stay charged all day long, so you won't miss any sounds or voices. These hearing aids are easy to care for and maintain which can be a great relief for many people.
When you can hear better, you deal with less confusion, are more alert, and have more power and control over your life. You will regain your confidence because you will be able to hear more clearly.
4) GOOD FOR THE ENVIRONMENT
Since you will no longer be dealing with continuous battery replacement, you will be helping the environment because you won't be throwing batteries away all the time. Another environmental advantage to rechargeable hearing aids is that many models are recyclable.
5) UNIQUE TO YOU
When you get fitted for a rechargeable hearing aid, that hearing aid is unique to you. These hearing aids come in a variety of styles and are fitted to your unique needs and lifestyle to deliver optimal results.
You can feel confident knowing that your hearing aids are not visible and you may not even feel that you are wearing them. Today's hearing aids are smaller, lighter, and discreet.
GET YOUR RECHARGEABLE HEARING AIDS TODAY
Thanks to all the technological advances, there's no reason that you should live with hearing loss. If you or a loved one are struggling with hearing loss, rechargeable hearing aids may be for you.
Contact us today to schedule your appointment with our trained specialist and be sure to ask about your free two-week hearing aid trial. Let us help you regain your confidence and improve your quality of life.