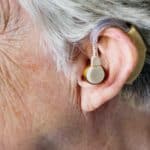 If you had to guess what the second most common health issue is across the globe, then what would you say? Would you guess hearing loss?
If so, then you'd be right. The sheer number of individuals with hearing loss is staggering, and many if not most would benefit from hearing aids. So, how much do hearing aids cost on average? Why are they so expensive?
Keep reading to find out!
THE AVERAGE COST OF HEARING AIDS
So, how much are hearing aids? The cost of hearing aids ranges from the low end (about $1,000) to the high end ($4,000+). To complicate matters, health insurance companies rarely cover the full cost.
Consumer Reports respondents spent an average of $2,691 out of pocket for hearing aids. If you're in the market, then it's advised you create a hearing aid price comparison list. Here's what to consider with each device:
Is a warranty included?
Does the cost include a hearing test, consultation, and fitting?
The technology level of the hearing device
What features does the device have?
Creating this hearing aid price list will help you make the right choice. In general, a better performing device will cost more.
You need to consider your level of hearing loss and the device's power. Don't settle for a device that won't be efficient at correcting your type of hearing loss.
WHY DO HEARING AIDS COST SO MUCH?
The number of Americans suffering from hearing loss doubled between 2000 and 2015. Such high numbers reveal that there's a growing need for hearing aids.
There's little doubt that hearing aid prices are high, but why? Here are a few reasons why hearing aids cost so much:
Prices often include both the device and professional services
Technology continues to improve every year
Programs and features are included
Keep in mind that providers bundle all costs into the final retail price. This includes costs associated with the device's research, development, marketing, and ongoing support.
WHAT ARE MY OPTIONS?
Hearing loss affects relationships, and it's very isolating. Despite that, high prices often discourage people from getting the devices they need.
If you or a loved one are struggling with hearing loss give Earmaster a call to schedule a no-cost hearing test. Make sure to ask Lisa or Paul about their "Try Before You Buy" program.
They'll go over financing options during your appointment. About 40% of Americans use a third-party to help them pay for hearing aids. You may be able to do the same.
HEARING AIDS ARE TOTALLY WORTH THE INVESTMENT
They may be expensive on the surface, but it's important to consider the value of the technology and the ongoing care and service that comes with them. The research, development, and performance of today's digital hearing aids are worth the price.
Are you in the market for a new hearing aid? This investment deserves serious consideration. Be sure to read our guide on buying hearing aids before you buy. Or you can call EarMaster right away at (580) 436-3277 to schedule an appointment.