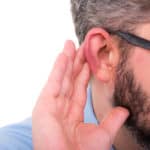 How is your hearing? Have you ever experienced that irritating ringing in your ears? The chances are that you have.
Studies show that 45 million Americans suffer from a chronic ringing in their ears. This condition is called Tinnitus. The chances are high that you have heard about it. It is also likely that what you have been told is not necessarily the truth.
If you are experiencing Tinnitus symptoms, then this is for you. Read on to learn more about this condition.
TINNITUS SYMPTOMS ARE JUST THAT, SYMPTOMS … OF AN UNDERLYING PROBLEM
While the majority of people have heard of Tinnitus, and could give you a definition of the condition pretty easily. What most people do not know, is that it is not a condition at all.
Tinnitus symptoms are actually an indicator that there is some other problem that needs your attention.
Think of it like an alarm bell. It rings to draw your attention to the problem.
It is important to understand that while Tinnitus is certainly not pleasant, and can in itself come in several levels, from minor to chronic, the bigger issue to address is always the underlying problem.
WHAT YOUR TINNITUS IS TRYING TO TELL YOU
Tinnitus symptoms could be indicative of a large number of things, and not all of them are directly to do with your ears or hearing.
While is it certainly possible that Tinnitus is a sign of hearing loss or excessive wax build up, it is not an indicator that you're going to go deaf. This is one of those 'facts' that you are likely to have heard, which are incorrect.
Other issues that could be related include:
Loud noise exposure,
Side effects of certain medications
Ear Trauma
Meniere's Disease
Blood circulation issues
Localized tumor growth
The range of problems moves from mild to severe, and is an indicator that while you can just accept a mild case of Tinnitus, you should always go and get yourself checked out at the doctors.
Another non-medical cause for Tinnitus could be bad diet. Perhaps a cut back on alcohol or a slightly healthier meal plan can help quieten things down.
While there are a great many people living with Tinnitus, there is still a lot of false information about the condition.
WHAT YOUR TINNITUS IS NOT TRYING TO TELL YOU
The internet doctor can, at times, be a curse. Anybody who knows how to Google can become a self-proclaimed expert, and offer advice on all conditions known to man.
But let's take a look at a few of the things that your Tinnitus symptoms are not telling you.
You're not going deaf – One of the more common misconceptions. Tinnitus does not mean you will become deaf. While the two can be linked, it is not a solid line.
Tinnitus is not always a ringing sound – Contrary to what many believe, Tinnitus is not always experienced as a ringing in the ears. For some, the sound can be more of a buzzing or a humming noise.
There is a pill that can cure you – This is a nice one to believe in, because that is an easy answer to the problem. However, there is no magic pill that can cure tinnitus. As already mentioned, tinnitus itself is a symptom, and you need to listen to it in order to find the root cause.
YOUR HEARING IS A PRECIOUS THING
Hearing is a precious thing, and something we cannot just take for granted. Any continuous sound in your ears is one of the definite Tinnitus symptoms and should be checked out.
Are you tired of living with Tinnitus, convinced that there is nothing else to do? Get in touch today and we can help you get your normal hearing back.