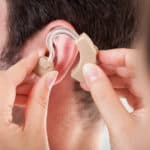 With so many choices available, searching for a new hearing aid can be overwhelming.
Maybe you've used hearing aids for a while and you're thinking of switching to a different brand. Or maybe you're noticing issues with your hearing and wondering if you should invest in your first hearing aid.
Either way, finding the best hearing aid is like finding the best pair of running shoes. Your friends may recommend their favorite brand, but what works for them might not work as well for you.
The best way to find your ideal hearing aid is to compare features and decide which is the perfect "fit" for you.
Read on for our expert tips on how to find the best hearing aid for you.
HOW TO COMPARE HEARING AIDS
An ideal hearing aid should be comfortable to wear. It's best if it's also customized to your individual acoustic needs.
If this is your first time trying hearing aids, you might feel unsure about what to "listen" for. Since you're hearing sounds you haven't heard in a while, everything will seem louder at first!
Here are a few things to consider when comparing hearing aids.
How does your own voice sound? Your voice will sound louder than you expect, and there will be an adjustment period no matter which hearing aid you choose. To help you compare, try reading a passage or reciting a poem while wearing different hearing aids. How do your voice quality and volume change with each brand?
How well do you hear in different settings? Most hearing aids have adjustable settings for quiet and noisy environments. Learn how to adjust them, and be sure to test them in a variety of settings. Your doctor may have sound samples that mimic a busy restaurant or loud party. You should also walk outside to test how traffic and wind sound.
How does a telephone sound? As you test each brand, make a call on your cell phone or sample the device's Bluetooth feature. You can also try an old-fashioned landline phone to see how it sounds in your ear.
THE BEST HEARING AID BRANDS
Now that you know what to look for in a hearing aid, here are our recommendations for the best brands:
Unitron. We love Unitron because they cater to all budgets and hearing needs. From the newest technologies to high-quality basic devices, Unitron offers something for everyone.
Oticon. Oticon is another popular brand that offers excellent sound quality and some of the best value for money.
Phonak. Phonak hearing aids consistently rank as the most reliable and easy to fit.
Starkey. Starkey is best known for offering exceptional customer service and easy-to-use hearing aids.
WHERE TO BUY HEARING AIDS
To buy the best hearing aids, you need to go to the best hearing aid clinic.
If you live in or near Ada, Oklahoma, we invite you to call or visit us at EarMaster to discuss your hearing needs.
Alternately, you can send us a message to ask a question or schedule a consultation. We look forward to hearing from you!