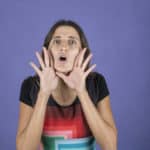 Our ears are pretty good at cueing us into what's going on around us. But when they begin to lose their function, that doesn't have to be the end of your hearing.
Hearing aids have been around since the 1800's and have been the butt of many jokes over the centuries. But they are a very useful item for those who might experience hearing loss.
Hearing loss and tinnitus have been the subject of a lot of false information over the years. And some of us have swallowed the blue pill when it comes to the truth about hearing loss.
No worries, we're here to set the record straight about hearing loss and the devices that mitigate that loss.
1. TINNITUS CAN'T BE CURED
Tinnitus is a broad category. It essentially means "ringing in the ears" or "a perception of ringing in the ears". This ringing is associated with hearing loss.
Tinnitus itself isn't a disease. It's a symptom. And it can result from a variety of events and diseases from sudden loud noises, pressure changes, vascular disease, and brain injury.
Tinnitus can be temporary for some individuals. And with permanent tinnitus, the symptom can be managed with particular treatments.
2. HEARING LOSS ONLY HAPPENS TO THE AGED
Hollywood and TV has loved to portray old crotchety men and women with their ear megaphones shouting "Whatcha-say?!"
But the aging population aren't the only ones who suffer from hearing loss.
In fact, 15% of people over the age of 18 reports some trouble hearing. And 14% of adults 20-69 years of age report hearing loss.
Also, 2-3 out of every 1000 children in the US are born with some hearing loss.
So, no, hearing loss isn't just for the older population. Anyone can experience hearing loss at any age.
3. SOUND AMPLIFIERS ARE HEARING AIDS
In fact, the opposite is true. Sound amplifiers are not approved by the FDA and can actually damage your ears.
They increase the volume of all the sounds in your environment while hearing aids only increase the sounds you need to hear.
Thus sound amplifiers are not hearing aids in the traditional sense. They were created for recreational activities where you might need all the sounds around you amplified.
While they might have specific applications, they should never be used in place of real hearing aids.
4. HEARING AIDS CURE HEARING LOSS
While they do manage the symptom of hearing loss and tinnitus, these devices are not a cure.
You won't get your hearing back to normal.
But you can mitigate hearing loss and lessen the effects of tinnitus on your hearing.
5. YOUR HEARING LOSS WAS CAUSED BY ROCK CONCERTS
While loud noises at a rock concert can damage your ears, your days at Woodstock probably aren't the primary cause of your hearing loss.
The most common causes of hearing loss are common to all of us. Factors such as age, genetics, medication, smoking, poor diet, etc. can cause hearing loss.
CARE FOR YOUR EARS
Your ears perceive sound through the hairs in your inner ear. Once those are destroyed, they're gone. So caring for our ears is extremely important.
If you're experiencing hearing loss, ask us about our free two-week hearing aid trial to see if we can help you get your ears back in the game.